News & Events
Kindergarten Information Night Jan 12, 2023
.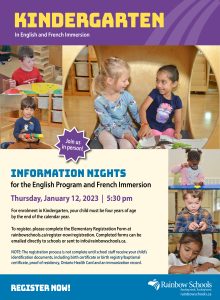 A reminder that on January 12 from 5:30-6:30 Walden will be hosting an in-person Kindergarten Information Night.
For enrolment in Kindergarten, your child must be four years of age by the end of the calendar year.
Registration is not complete until school staff receive your child's identification documents, including birth certificate or birth registry/baptismal certificate, proof of residency, Ontario Health Card and an immunization record.
Parents/guardians can enroll their children in the English Program or the French Immersion Program at Walden.
---